Banbury Constituency Labour Party
WELCOME – THE OFFICIAL LABOUR PARTY WEB SITE FOR BANBURY, BICESTER & NORTH OXFORDSHIRE VILLAGES
A Red Wave is happening…

Membership of the Banbury & Bicester Labour Party has increased by 200% since the General Election results and the election of Jeremy Corbyn as leader. Come & join us.  Ring 01295 810813 to get the reduced rate.
---
EU REFERENDUM
More people in Cherwell voted to leave the EU – a 0.61% majority.
49.69% (40,668) voted remain
50.31% (41,168) voted to leave
Margin 500
A total of 81,836 people voted, representing 75.55% of the 108,323 electorate. The result was declared at
NATIONALLY
48.1% Remain – 51.9% Leave – Turnout 72%
---
Jo Cox MP
Jeremy Corbyn said, " The Labour Party has established an online book of condolences  (Friday 17 June) so that Labour members and supporters can send their own messages of condolence and express their thoughts at this troubling time. I hope this will help us all to come together in solidarity and in dedication to a better world.
You can add your message here: http://www.labour.org.uk/jo-cox
Statement by Jeremy Corbyn on the killing of Jo Cox MP (Thurs 16 June)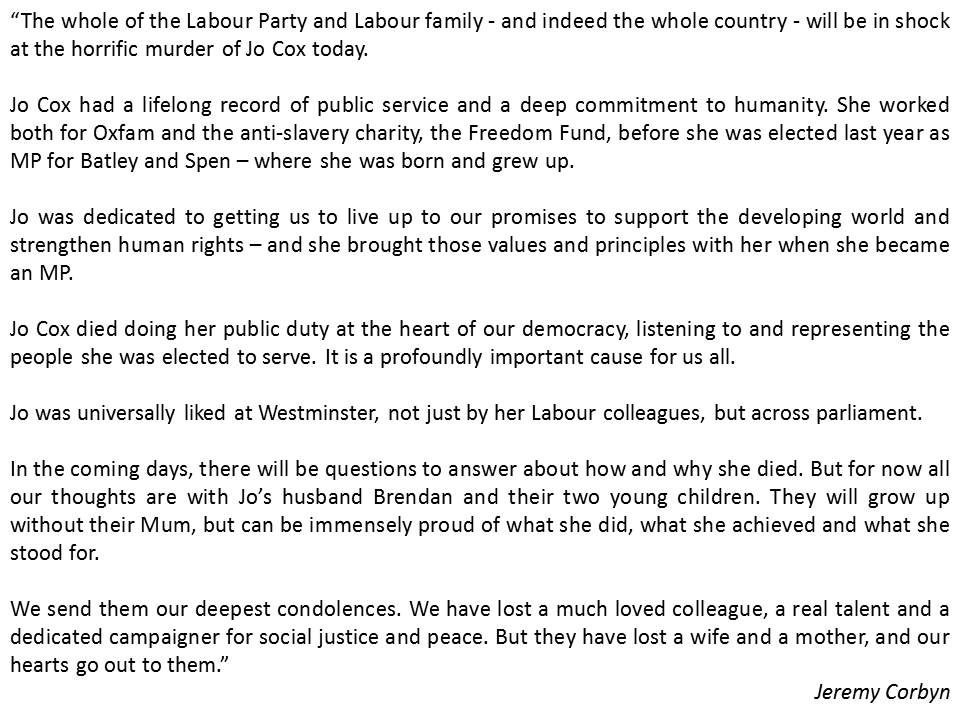 ---
On Monday 13 June Jeremy Corbyn and members of the Shadow Cabinet joined thousands of people in Soho to pay tribute to the people killed and injured in the appalling attacks on a gay nightclub in Orlando, Florida. We in the Banbury & Bicester Labour Party stand in solidarity with LGBT people here in the UK and across the world.
---
Labour Councillor's say local voices need to be heard over cuts to Horton services
Banbury's Labour County Councillors want to ensure that views of local people are given priority in upcoming consultations over cuts to Horton Hospital's services.
Cllr Mark Cherry said, "Two years ago the consultation over the closure of the Horton's abdominal unit were held on a dark winter's night at Rye Hill Golf Club which meant that many people were dissuaded from attending.
And let's not forget that when the Maternity Unit was under threat in 2006 people took to the streets of Banbury in protest."
In plans unveiled recently by the Hospital Trust a number of services including maternity, special care baby unit (SCBU), children's ward, most trauma/orthopaedic work, medical services and A&E are under threat.
Cllr. Cherry said, "This is all about saving money at a time when there are 8000 new homes being built in and around Banbury. NHS England, have requested that all local healthcare services develop plans to deliver the NHS Five Year Forward View, and one of the key requirements is to ascertain if services are financially viable.
In my view, closing services is a political decision by the Conservative government to save money – and has nothing to do with providing good, local services that people need."
Labour Cllr. Surinder Dhesi who is a member of the Health and Overview Scrutiny Committee, said, I am very concerned and will be bringing up these threats to services at the next meeting.
"I recently took my husband to an appointment at the Radcliffe Hospital and it took us over an hour. Just imagine what might happen if a woman needed specialist maternity help and had to be taken the 25 miles to Oxford. We all know the Radcliffe is overstretched at the moment and they use the Horton as an overflow. Any downgrading of vital services at the Horton is putting lives at risk."
---
Lord Stewart Wood makes positive case for staying in EU
At a public meeting in Banbury organised by Banbury & Bicester Labour Party on 26 May 2016, Lord Stewart Wood, a Labour member of the House of Lords and an Oxford academic, made a strong case in support of staying in Europe.
Lord Wood said he was passionately pro-Europe although there is much that is not right, and warned that the next ten years would not be "all sweetness and light."
He covered three areas: the economic benefits, the policy challenges facing Europe that required collaboration, and the UK's security needs.
He said there was a boost to our economy by being in Europe, which has created 3.3 million jobs.
He cited the following challenges facing Europe, which he said could only be solved by working within Europe:
A stagnant economy
Crime and terrorism
Refugee crisis
Energy supply and energy security
Tax evasion and avoidance
Resisting a race to the bottom over workers' rights
In terms of UK's security needs he said the EU's promotion of democracy was one of its greatest successes, but referred to a number of security issues – Russia, Middle East and the instability in Turkey, Lebanon and Jordan as a result of the refugee crisis.
The said the overarching values of the EU were solidarity and internationalism.
He wanted to set a positive agenda for the Labour Party saying it was a time to be bold and on the front foot. He said, "We want to fight back against austerity, act on tax avoidance, campaign for workers' rights, restructure the Euro, target money to areas adversely affected by immigration,  and deal positively with migration and the refugee crisis."
---
MAKING BANBURY BETTER TOGETHER

– Tell Us What You Think
We in the local Labour Party want to exert a positive influence on the future of Banbury and would welcome your views.This short survey will take you less than a couple of minutes – simply PRESS the red button
---
The Banbury Labour Party constituency is divided into 3 Branches:
Banbury Town
Bicester & District
North Oxfordshire Villages
To work out in which Branch you live, see the constituency map.Since May 2010 your local Labour Party has been actively campaigning against the speed and scale of cuts to public services that are affecting the most vulnerable in our local communities. These include cuts to housing, transport services, policing, libraries, health and social care.The Conservative-led Coalition cuts go too far and too fast and, through increased unemployment, low paid jobs, many with zero hour contracts, there is a highly negative effect on the economy which although showing some small signs of recovery is still extremely fragile. There are almost a million young people unemployed which is a shocking statistic. As the burden on state services from cost of living crisis increases, the budget deficit becomes harder to reduce. The Banbury Labour Party is fighting for a strategy for growth, an increase in employment and better paid jobs, and reducing the deficit through this growth, rather than excessive cuts.